Sutter Creek Community Benefit Foundation – Giving
REASONS TO GIVE
Invest in Sutter Creek. We multiply the impact of dollars by pooling them with other gifts and grants.
We build endowment funds that benefit the community forever and help create personal legacies. Your contributions stay in Sutter Creek so you can experience the results of your giving.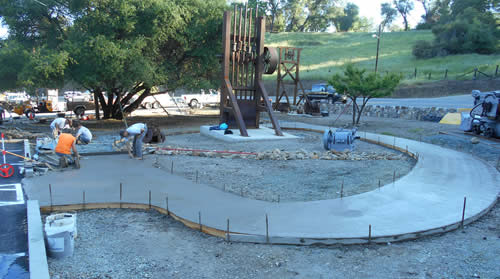 Whether it's a love of our heritage, a special connection to our town's diverse, deeply rooted cultures, or a desire to improve your community, every donor's passion for Sutter Creek is unique.
A gift to Sutter Creek Community Benefit Foundation is the perfect way to fund your passion and watch it prosper.
By connecting people who care with causes that matter, we help ensure a stronger, healthier tomorrow. We provide a simple, powerful and highly personal approach to giving.
It is your Community … We are your Foundation
The reasons people make gifts or establish funds with a community foundation are as broad and deep as the colors of a rainbow.
Many donors are attracted to the idea of permanence, since they know that a community foundation is designed to provide support for local needs now and in the future, in perpetuity.
Some donors want to honor a friend or family member with a memorial gift in an area that was of special interest to that person.
Others wish to establish a family tradition of local giving by building a permanent fund in their name that supports the things they care about most. A fund at the Community Foundation eliminates the costly and time consuming administration of setting up a private foundation, while still allowing all of the tax benefits.
Many individuals see the foundation as an ideal place to leave a portion of their estate as a bequest, so that future generations of Sutter Creek residents will benefit from their charitable giving.
There are many who like the idea of "bricks and mortar" gifts, so they focus their giving on capital campaigns.
Others have a long-term vision of an organization's value, and want to help them build an endowment for sustained support of their programs.
Establishing a charitable fund at Sutter Creek Community Benefit Foundation is easy, flexible, effective and lasting. We can guide you through the process. Giving should warm your heart, not burden you with tax complications and ongoing administrative details. We are uniquely prepared to help you connect to the causes that matter to you.
Top Ten Reasons:
We are a local organization with deep roots in the community.
Our board has broad expertise regarding community issues and needs.
We provide highly personalized service tailored to each individual's charitable and financial interests.
Our funds help people invest in the causes they care about most.
We accept a wide variety of assets and can facilitate even the most complex forms of giving.
We partner with professional advisors to create highly effective approaches to charitable giving.
We offer maximum tax advantage for most gifts under federal law.
We multiply the impact of gift dollars by pooling them with other gifts and grants.
We build endowment funds that benefit the community forever and help create personal legacies.
We are a community leader, convening agencies and coordinating local resources to create positive change.
One of the advantages of giving through Sutter Creek Community Benefit Foundation is that we can accept a range of assets, and we can facilitate even very complex forms of giving. Most gifts to the Community Foundation qualify for maximum tax advantage under federal law, but when giving to charity, all assets are not equal. We are happy to work with you and your professional advisor to assess ways to maximize the value of your gift and its tax benefit.
Charitable assets
• Cash
• Publicly traded securities and appreciated stock
• Bonds
• Mutual fund shares
• Real estate
• Retirement assets
• Tangible personal property
Most gifts qualify for maximum tax advantage under federal law.
Wondering how to get started? Contact us for help with outright gifts of cash or direct transfers of stock. We can also work directly with you or your estate planning adviser on planned gifts of real estate or retirement assets.
How you can create a fund: You make a gift of cash, appreciated stocks, real estate, or other assets to Sutter Creek Community Benefit Foundation.
SCCBF sets up a special fund in your name, in the name of your family or business, or in honor of any person or organization you choose.
You receive tax benefits in the year your gift is made.
Based on the type of fund you establish, you may be able to stay involved in the good works your gift makes possible. You can recommend an area or organization you'd like your gift to support, or rely on the SCCBF's experienced board to determine and address the areas of greatest need in your community.
1. Do you want the SCCFB to make grants where the community need is the greatest? Giving Unrestricted Funds allows us maximum flexibility to respond to changing needs in our community.
2. Do you wish to actively make grant recommendations from the fund you establish?
Consider a Donor Advised Fund. This type of fund offers you the ability to make grant recommendations that you are passionate about.
3. Do you have a particular area of interest (e.g., history, education, environment, cultural heritage) and prefer that the SCCBF decide which program to support in your selected fields? If you establish a Field of Interest Fund, the Community Foundation actively solicits proposals through our competitive grant making program to match your interest. Earnings from funds are pooled to fund grants in particular areas.
The SCCBF board issues grants in the name of the fund you establish (if you prefer, grants can be made anonymously).
We handle the administrative details.
Your gift can be placed into an endowment that is invested over time. Earnings from your fund are used to make grants addressing community needs. Your gift and all future earnings from your gift – is a permanent source of community capital, helping do good work forever.
Sutter Creek Community Benefit Foundation offers a variety of services to help you make the most of your charitable giving.
Our board is ready to help you:
Explore your charitable options. For as many motivations as there are to give, there are ways of giving. The key to having a rewarding giving experience is finding the best fit for your charitable priorities, financial goals, and personal preferences.
Make your gift dollars go further. As a public charity, we offer maximum tax advantage for most gifts under federal law. Compare the cost-effective community foundation alternative to establishing a private foundation. Your gift dollars are pooled with other gifts and grants, minimizing your administration costs and maximizing your impact. Through our careful stewardship and the power of endowment, we invest your gift so that it grows over time.
Understand the mechanics of giving. Our investment committee provides clear and accurate information about your fund. We will always respond to your inquiries and correspondence promptly.
Learn about community needs and opportunities. Our board continually monitors our community's most pressing needs and greatest opportunities. We evaluate all aspects of community well-being: cultural heritage, economic development, education, environment, historic preservation, and more.
Work with your estate or financial planner. We share our philanthropic expertise with your trusted professional advisor to design the charitable giving solution that's right for you. You'll enjoy the financial, personal and community benefits of highly strategic giving.
Stay involved in your gift. When you establish a field of interest or designated fund, you determine the purpose of your gift from its inception. With a donor advised fund, you can stay involved in recommending uses for your gift. You can also choose to give to our unrestricted fund, for a gift that lasts forever and adapts to changing needs.
Relax while we handle the paperwork. We manage all of the administrative responsibilities including the investment management, due diligence, tax reporting and grant making. We make it easy for you to focus on the joy of giving.
Create your legacy. We can help you establish a fund to honor a loved one, a special organization or cause, or the name of your business or family. Grants may be issued in your fund's chosen name or given anonymously.
Engage the next generation of philanthropists. We offer you the opportunity to name successors as fund advisers, continuing your legacy of giving far into the future.
Connect with others who share your passion. We connect people who care with causes that matter—and we also connect people to each other. As a donor, you'll have opportunities to network with other community focused individuals who share your interests and passions.
Do you have other questions in mind? We look forward to speaking with you personally to discuss your charitable goals. Contact us to set up an appointment.